The Best Netflix Original Movies of 2020 (So Far)
Netflix is banking on its original TV shows and movies to keep you hooked on the service, which is why the streamer is investing more than $17 billion this year to produce its massive slate of originals. We all know that the milage of these vary wildly, but Netflix has been dedicated to upping the quality of its movies over the past few years, with titles like Martin Scorsese's The Irishman, Noah Baumbach's Marriage Story, and Alfonso Cuarón's Roma, to name just a few. But which of Netflix's films are this year's essential watches? We'll be watching as many of the streamer's new movies as we can possible tolerate as the year draws on to confidently declare: These are the very best Netflix original movies of 2020.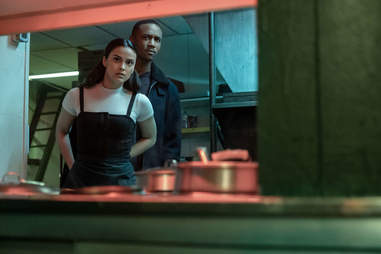 8. Dangerous Lies
The first thing you'll notice about Dangerous Lies, a ridiculous thriller starring Riverdale's Camila Mendes, is the obviousness of the title. At least in the context of movies, aren't most lies inherently dangerous? Honestly, Safe Lies would have been more intriguing. But beyond the title, by flipping expectations around the "evil husband" trope, this entry is at least better than the similarly goofy Secret Obsession, the previous attempt by Netflix to encroach on Lifetime's corner. On the whole, the movie has a visual slickness, courtesy of director Michael Scott, that makes it look better than some of the shoddier mysteries in the "woman in peril" genre, and the script throws out enough bizarre details to keep you guessing about how the pieces will click together. The fact that some of the pieces simply don't click together shouldn't be too surprising. After all, you're watching a movie called Dangerous Lies.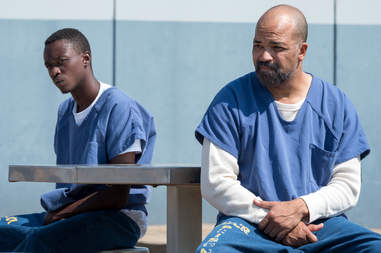 7. All Day and a Night
Soft-spoken and observant, Ashton Sanders, who viewers might recognize from the Oscar-winning Moonlight, Hulu's hip-hop docudrama Wu-Tang: An American Saga, and HBO's underseen Native Son adaptation, brings a quiet intensity to any role he chooses to play. In All Day and a Night, a Netflix crime drama that toggles between three separate periods in the life of a troubled young man growing up in Oakland, Sanders elevates an occasionally plodding tale of bloodshed and ambition. The script from Black Panther co-writer Joe Robert Cole, who also directed the film, has a convoluted flashback structure that often undermines the thematic potency of the material. (The movie feels particularly indebted to more strikingly original '90s movies like the Hughes Brothers' Menace II Society.) Still, Sanders, along with cast members like Jeffrey Wright, Regina Taylor, and the magnetic Yahya Abdul-Mateen II, make this compelling enough despite the plodding pace.
6. Lost Girls
Documentarian Liz Garbus makes her narrative feature debut with this real life story based on a deeply reported book by Robert Kolker about the mystery surrounding a series of murders on Long Island. At the center of her narrative is Amy Ryan as Mari Gilbert, the ferocious mother of a young woman who disappeared. As Mari, Ryan is fiercely guarded but is drawn into a movement when she realizes her plight is being ignored because her daughter was a sex worker. At times, the film flattens into a routine procedural, but Ryan's anger is palpable and she's matched by strong performances from Lola Kirke and Miriam Shor.
5. Extraction
Tossing aside Thor's massive hammer and trimming his gnarly Avengers: Endgame beard, Chris Hemsworth picks up an assault rifle and gets to work in Extraction, a new Netflix shoot-em-up that re-teams the Australian actor with his former Marvel filmmaking buddies Joe and Anthony Russo. While Hemsworth's gun-toting commando protagonist Tyler Rake — yes, that's his name — lacks comic-book superpowers and Norse god strength, he can take a beating and keep fighting. At one point in the film's big show-stopping chase sequence, Rake gets slammed by a speeding car. His solution? Locate a bigger vehicle, preferably a large truck, and hit the bad guy back. That type of strategic thinking should give you a sense of Rake's tactical prowess and of the movie's blunt-force approach to action filmmaking…….Read More>>
Source:- thrillist
Share: